The next-generation of AI Technology
VERSES is a cognitive computing company specializing in next-generation artificial intelligence solutions. Natural systems and human cognition inspire our flagship offering, Genius™.
Meet our leadership team.
Genius can adapt, learn and integrate with the Institute of Electrical and Electronics Engineers' open spatial web standard P2874.
Critical features of Genius include generalizability, spatial web standards integration, predictive queries, real-time adaptation and an automated computing network.
Built on open standards, Genius transforms disparate data into knowledge models that foster trustworthy collaboration between humans, machines and AI, across digital and physical domains.
Imagine a smarter world that elevates human potential through innovations inspired by nature.
For more information about VERSES including videos, podcasts and customer stories, visit our resources section.
To learn about our AI Governance initiatives, access a free download of "The Future of Global AI Governance" and the Executive Summary, click here.
Jump point: mailing-list (text will be hidden when published)
Download our Investor Presentation and be among the first to receive updates on news, patents, product rollouts and industry reports.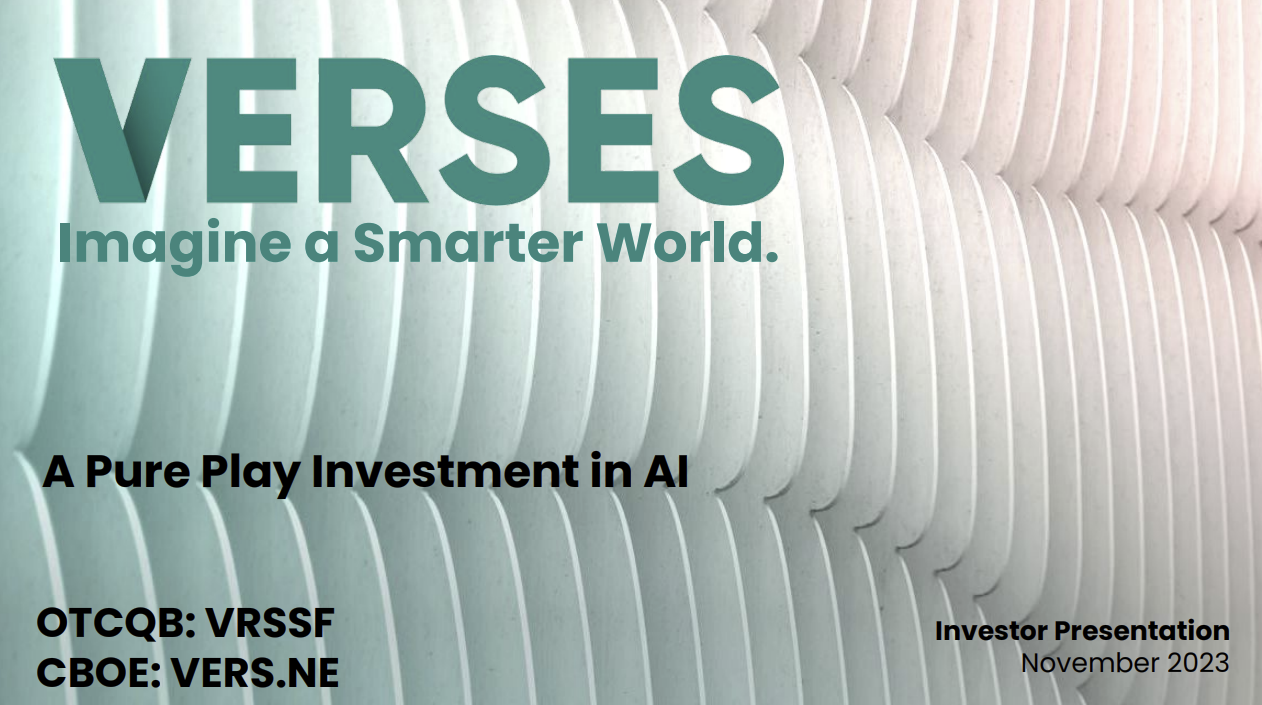 Jump point: ceo (text will be hidden when published)
VERSES Introduces Genius™
On November 3, 2023, VERSES AI announced the launch of its intelligent software platform, Genius™, including a demo of select Genius™ capabilities. To learn more, visit : https://www.verses.ai/genius
Jump point: news-and-events (text will be hidden when published)
VERSES AI in the News 2023 Timeline
Jump point: financials (text will be hidden when published)
2023
MANAGEMENT'S DISCUSSION AND ANALYSIS for the period ended November 14, 2023
Download Now

---

CONDENSED CONSOLIDATED INTERIM FINANCIAL STATEMENTS FOR THE SIX MONTHS ENDED SEPTEMBER 30, 2023 and 2022
Download Now

MANAGEMENT'S DISCUSSION AND ANALYSIS for the period ended June 30, 2023
---
MANAGEMENT'S DISCUSSION AND ANALYSIS for the period ended June 30, 2023
---
MANAGEMENT'S DISCUSSION AND ANALYSIS for the period ended June 30, 2023
Download Now

---

CONDENSED CONSOLIDATED INTERIM FINANCIAL STATEMENTS for the three months ended June 30, 2023 and 2022
Download Now

---

MANAGEMENT'S DISCUSSION AND ANALYSIS for the year ended March 31, 2023
Download Now

---

CONSOLIDATED FINANCIAL STATEMENTS for the year ended MARCH 31, 2023 and 2022
Download Now

2022
MANAGEMENT'S DISCUSSION AND ANALYSIS for the period ended December 31, 2022
Download Now

---

CONDENSED CONSOLIDATED INTERIM FINANCIAL STATEMENTS for the nine months ended December 31, 2022 and 2021
Download Now

---

MANAGEMENT'S DISCUSSION AND ANALYSIS for the period ended September 30, 2022
Download Now

---

CONDENSED CONSOLIDATED INTERIM FINANCIAL STATEMENTS for the six months ended September 30, 2022 and 2021
Download Now

---

MANAGEMENT'S DISCUSSION AND ANALYSIS for the period ended June 30, 2022
Download Now

---

CONDENSED CONSOLIDATED INTERIM FINANCIAL STATEMENTS for the three months ended June 30, 2022 and 2021
Download Now

---

MANAGEMENT'S DISCUSSION AND ANALYSIS (MD&A) for the year ended March 31, 2022
Download Now

2021
MANAGEMENT'S DISCUSSION AND ANALYSIS for the year ended March 31, 2021
Download Now

---

MANAGEMENT'S DISCUSSION AND ANALYSIS (MD&A)for the year ended March 31, 2021

CONSOLIDATED FINANCIAL STATEMENTS for the years ended March 31, 2022 and 2021
Download Now

---

CONSOLIDATED FINANCIAL STATEMENTS for the years ended MARCH 31, 2021, 2020 and 2019
Download Now

---

CONSOLIDATED FINANCIAL STATEMENTS
for the period from incorporation on November 19, 2020 to March 31, 2021
Download Now

---

FINANCIAL STATEMENTS
for the period from incorporation on November 9, 2020 to March 31, 2021
Download Now

Jump point: corporate-governance (text will be hidden when published)
2023
ARTICLES OF THE COMPANY
Download Now

---

AUDIT COMMITTEE CHARTER
---

MANDATE OF THE BOARD OF DIRECTORS
---
CERTIFICATE OF INCORPORATION
Download Now

---

CERTIFICATE OF CHANGE OF NAME
Download Now

---

COMPENSATION COMMITTEE CHARTER
Download Now

---

MAJORITY VOTING POLICY
Download Now

---

NOMINATING & CORPORATE GOVERNANCE COMMITTEE CHARTER
Download Now

---

NOTICE OF ARTICLES
Download Now

---

ARTICLES OF THE COMPANY
Download Now

---

ARTICLES OF THE COMPANY
Download Now